première: 14 March / Teatro Grande, Brescia
creation dedicated to Edgard Varèse's musical research
direction and choreography:
Nicola Galli
production:
Fondazione Musica per Roma, TIR Danza, Fondazione Teatro Grande di Brescia, stereopsis
in collaboration with:
L'arboreto - Teatro Dimora di Mondaino, Teatro Petrella di Longiano
dance:
Alessandra Fabbri, Nicola Galli, Paolo Soloperto
music:
Edgard Varèse (Un grand sommeil noir, Poème électronique, Déserts, Ionisation, Density 21.5.)
texts inspired by:
Edgard Varèse, Alice Miller, Gilles Clément, Marcel Proust
scenography:
Giulio Mazzacurati
video e costumes:
Nicola Galli
light and sound:
Giovanni Garbo
organization:
Giulia Melandri
artistic residences:
L'arboreto – Teatro Dimora di Mondaino, Teatro Petrella di Longiano, CapoTrave/Kilowatt Sansepolcro
with the support of:
h(abita)t – Rete di Spazi per la Danza / Leggere Strutture Art Factory, Centro di Residenza della Toscana (Armunia Castiglioncello - CapoTrave/Kilowatt Sansepolcro), NEXT 2018 / 2019 Laboratorio delle idee per la produzione e distribuzione dello spettacolo dal vivo - Regione Lombardia
length:
60 minutes
Prize of Premio Equilibrio 2018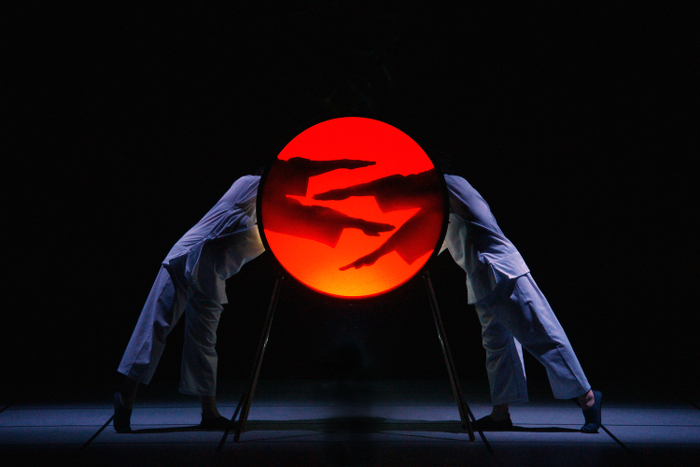 Deserto digitale
is a choreographic pièce dedicated to Edgard Varèse's revolutionary music research and inspired by the composition "Déserts".
The experimental and complex work of the composer, focused on "organized sound" and integration of noise, becomes the driving force of the pièce imagined as a visual and dreamlike ritual, point of contention between suspension, violence and catharsis.
The pièce presents an aseptic and synthetic scene in which an imaginary landscape reveals the desert intended as a boundess place and existential condition.
"If I say the word desert, what do your eyes see?"
This question welcomes the audience and then leads it into a seductive and visceral sensorial trip, a sort of magnifying glass that reveals the scene as a kaleidoscopic universe in constant short circuit.
A psychic and unreal atmosphere full of gestures, sounds and colors, envelops the space and guides three strangers to generates a figurative atlas that gradually disclose the introspective nature of the human soul.
Deserto digitale, in its meaning as fluid and immaterial place, shows itself as a geometric and pocketable horizon, and opens a window into the desolate human condition, telling the silent revolt of latent emotions for the survival of the individual.