Deserto digitale
is a choreographic pièce dedicated to Edgard Varèse's revolutionary music research and inspired by the composition "Déserts".
The experimental and complex work of the composer, focused on "organized sound" and integration of noise, becomes the driving force of the pièce imagined as a visual and dreamlike ritual, point of contention between suspension, violence and catharsis.
The pièce presents an aseptic and synthetic scene in which an imaginary landscape reveals the desert intended as a boundess place and existential condition.
"If I say the word desert, what do your eyes see?"
This question welcomes the audience and then leads it into a seductive and visceral sensorial trip, a sort of magnifying glass that reveals the scene as a kaleidoscopic universe in constant short circuit.
A psychic and unreal atmosphere full of gestures, sounds and colors, envelops the space and guides three strangers to generates a figurative atlas that gradually disclose the introspective nature of the human soul.
Deserto digitale
, in its meaning as fluid and immaterial place, shows itself as a geometric and pocketable horizon, and opens a window into the desolate human condition, telling the silent revolt of latent emotions for the survival of the individual.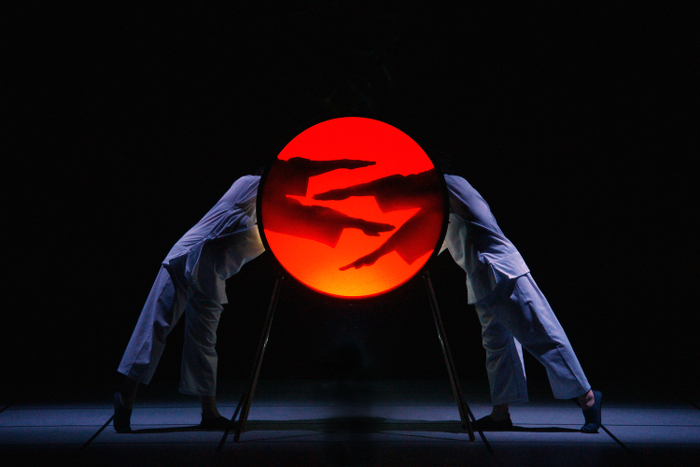 "From landscape installations to stratifications of bone architecture and research on the planetary system.
In
Deserto digitale
(Equilibrio prize 2018, seen at FOG Festival - Triennale Milano) we find all the elements of the poetic choreography of Nicola Galli, a fertile mind in continuous experimentation, that recently prefers the music of Edgard Varèse.
[...] Huge colored lenses, liturgically maneuvered and overlapped, create a chromatic scale and also act as a screen for video projection of micro-organisms and for shadow games.
The show creates a sensorial and dreamlike journey - with the beautiful
Lied
that evokes 'a great black sleep' during the prologue - and presents metamorphic postures from reptile and feathered together; martial struggles with long poles, synchronic solos and duets in relation to the timbric pulsing of music; astronaut explorations, corporal reconnaissance with probes in the oral cavity; a naked body, which embodies at the same time a climbing plant or chrysalis coming out of a steel carriage.
Many other sequences evoke no longer a boundless desert but a prolific vegetable, animal and human world."
Giuseppe Distefano [ Danza&Danza Magazine - 09/2019 ]