Il mondo altrove
is a choreographic pièce in the shape of dance ritual, which celebrates the motion of an unexplored world according to a scenic mindset.
The pièce traces an ideal path between West and Orient and it's freely inspired by South America's indigenous rituals, Japanese's symbols and traditions of Nō theater, and the composer Giacinto Scelsi's obsessive - to some extent mystical and eccentric - musical research, focused on a spherical concept of sound.
From the main door - which overlooks the scenic area and hides a elsewhere - four shamanic figures finely adorned move forward to lead a magical and timeless ceremony. The movement of bodies and the features of their faces - veiled and reconfigured according to canons extraneous to Western culture - preserve and offer to our gaze the ritual of a possible different tradition, acted inside a circular bordary which delimits a space still attributable to the sacred and which collects the result of a harmonious coexistence between natural habitat and human action.
The action takes place at sunset, embraced by the bright colors of gold, cyan and purple, and then it dissolves in a nocturnal gestural dialogue, as expression of mutual support, perpetual gift, universal and celestial communion.
Faced with this physical language, we are invited to decipher the "hieroglyphs" of this unknown, wild and upside down civilization; we are guests encouraged to train to overcome the border of the known, discovering ourselves as foreigners among foreigners. Welcoming a new world and opening up to an unknown system means to come into contact, without pre-established hierarchies, with the poetry of an opaque language, whether it belongs to the animal world, the plant world or any alternative culture. Accepting the questioning of something about oneself and rediscovering own humanity in the reflection of the encounter.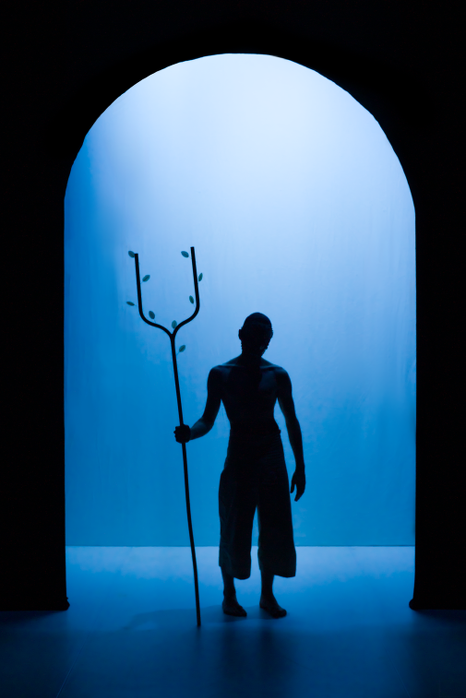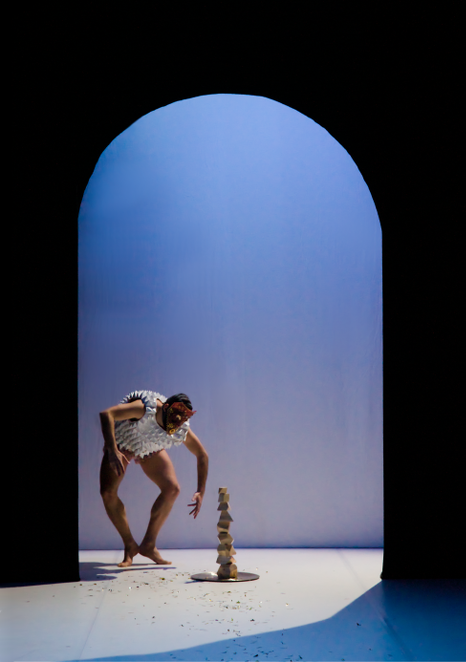 "[…] What goes on stage is a sort of primitive ritual, it is a dance that concerns the magic rituality archetypes where space and objects turn into sceneries overlooking the untold, the eternal, the mystery of life and creation. This liminal sense - to quote Victor Turner - passes through the performance of Nicola Galli who translates his contemporary style into a sort of a mimic score that lives by ethnological and iconographic suggestions of a primitive and rupestrian art which emerges out of the body posture."
Nicola Arrigoni [ SIPARIO.it - 27/11/2020 ]